What I knew of Dahieh
What I know, or rather knew, of
Beirut
's southern suburbs – the Dahieh – I learned through K.
His family has lived there for 12 years, since the civil war ended and they returned home from France. They didn't particularly like it there – life in an over-crowded, under-served, traffic-ridden slum leaves much to be desired – but they had family living there, the rent was cheap, it was where all the other poor and lower middle class Shia lived, and after a while it became home.
The first time I went there, with K, I tried to act cool. I had been in the country long enough to know what I was supposed to see: signs commemorating Hizbullah martyrs, life size cut-outs of the various ayatollahs suspended mid-air, lots of wires crossing between apartment buildings, and women fully veiled in black. I wasn't expecting all the children playing in the streets, stunning young women in skin-tight clothes, so many stores selling so much stuff. I wasn't expecting the power cuts, which happen daily in Dahieh, and have been for years. I wasn't expecting the convenience factor, with almost everything you could ever need within walking distance. And of course, I wasn't expecting the overwhelmingly kind acceptance into K's family that has kept me coming back for over five years.
After a while, I learned how to navigate Dahieh by myself, the basic location names and landmarks. Hay Madi, Masharrafieh, Mouawad, Haret Hreik, Bier al Abed, Jisr el Mattar, Ghobeireh, Hay el Sellum, Chiah. I learned to look for the clock on Moawad, and the dry water fountain. I learned to look for the Hi-Bye clothing store, for the Domex cloth and lingerie store, for the Club Sport adorned with Rambo paintings, for store next to their house that alternatively sells fruit and vegetables, or pajamas and scarves.
Not all of that is gone now, but much of it is. And what's left, will never be the same. It was never pretty, or quaint, or charming. But it is home, to thousands of people. And while the political forces propagandize and politicize, Dahieh's residents have been coming home, sweeping out the glass, washing away the dust, emptying the refrigerators and living.
None of the pictures below will shock you, they're not new or dramatic, they're just places that I knew. And all of the pictures were taken after the bulldozers carved roads and paths through the rubble. I should have written this weeks ago. I've been trying to.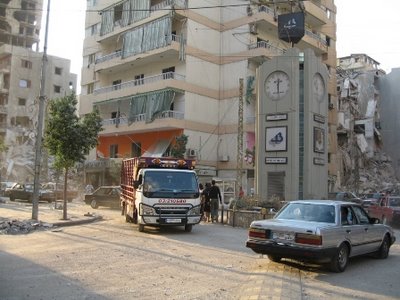 1) The clock on
Moawad Street
.
For years this was my main reference point. Every time I got lost, I would ask for the clock, and find my way home from there. The clock has never, ever, told the correct time. The building K's family first lived in is directly behind the main building in the photo, now surrounded on either side by the rubble of destroyed buildings.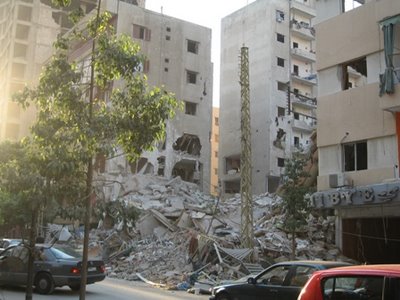 2) The Hi-Bye store
The Hi-Bye clothing store is near the clock, and was another easy reference point. It was bombed, and then caught on fire, so you can't see the truly scandalous clothing it used to sell.
3) Bier al Abed
Somewhere behind the rubble was a series of long, low buildings. Years ago a good friend left to go back to America, leaving behind a large carpet to be shipped. After looking for an hour, it was in one of these low buildings that K and I found a store which sold nothing but cardboard boxes, cartoneh, of all sizes. That's all gone now.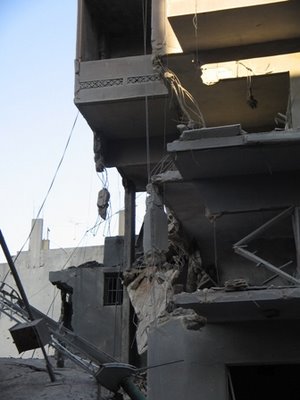 4) The DVD and everything else store
Although Lebanon's pirated CDs and DVDs can't compare to Syria, it is still possible to find the latest film on sale for $4. On the ground floor of this building was a store that sold DVDs, and electronic trinkets, and pens, and notebooks, and cassettes and CDs, and probably a million other things. K's sisters had just bought Munich from there a few days before the war began.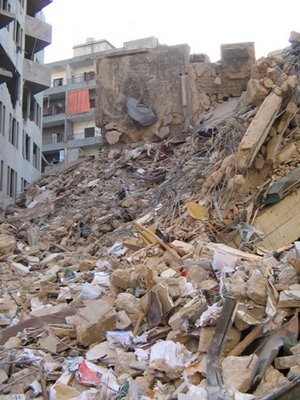 5) The Iraqi tailor
I never learned why he was in Beirut, when he arrived or how, but he was known throughout the neighborhood. He could hem pants in minutes, and finish more complication alterations in days. K's sisters took me there, all of us getting turned around more than once. But everyone knew where the Iraqi tailor was. I don't know where he is now.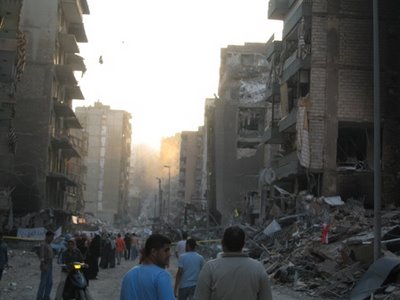 6) Haret Hreik
I walked this street for the first time two months ago, with K's sisters, looking for curtain rods. We didn't find what I wanted, although there were a few stores I was planning on going back to. We then walked through Jisr el Mattar and Beir al Abed – two other neighborhoods. When Israel started bombing, they hit this street, Jisr el Mattar and Beir al Abed on the same day. It felt a little surreal. Meanwhile, my curtains still aren't hung.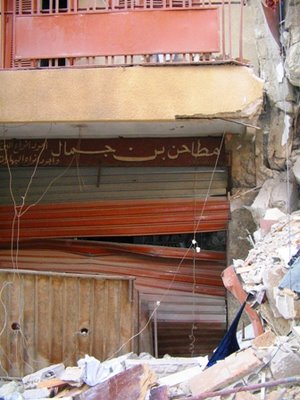 7) The spice place
Matahin Bin Jamal, affectionately known as the spice place, was probably my favorite thing in Dahieh – following K's family. It didn't belong on the side street from crowded Mouawad, full of traffic and motorcycles all day long. It didn't really belong in the 21st century. So narrow two people could barely pass, it was filled ceiling to floor with ancient wooden bureaus, each tiny drawer for a different spice. Three types of sumac, five types of zaatar, various peppers, sage, cumin ground and in seeds. I used to go just to breath in the air, and play with the drawers. Open one, and you see bright green zaatar (dried, crushed thyme) from Jezzine. Next to it, the deep earthy brown of crushed nutmeg. Cardamom, he only sold as seeds, because they lose their flavor so quickly once crushed. And everything was seasonal – you couldn't buy zaatar or sumac in the spring, because it was already old and losing its flavor.
K and I celebrated finally getting our own apartment by going to the spice place and buying 150 grams of everything we could think of. Each spice you bought was placed in its own small paper bag, carefully weighed on a tiny scale, and stapled shut.
I've since run out of sumac and zaatar, but I can't make myself buy from anywhere else. If I had known they were going to bomb the building next to my spice place, I would have bought a quarter-kilo of everything in every drawer. Then again, if you had told me they were going to bomb so heavily, so recklessly, I would never have believed you.
Sonya Knox
West Beirut